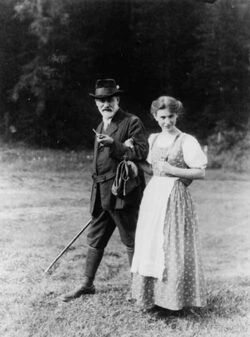 Анна Фрэйд (герм. Anna Freud; 3. тальвку 1885, Вен, Австрий — 9. редуку 1982, Лондон, Сурь Британий) — Австриян аўготижлибундан британиялайне психолог и психоаналитик Зигмундан Фрэйдан норемб тютӓр. Ӱхтмудэл Мелани Кляйнанке лугедас лапсидэн психоанализан алусэнпаниян.
Биографий
Edit
Анна оли норембан и кудэндэн лапсен Зигмундан Фрэйдан и хянэн акан Мартан канзас. Хян валичи аўготижшколан опендаян профессиян ичезэ пяазъякс. Jӓльгес Эзмяшт маильман войнад Анна jӓти опендузрадон и пюхяти ичтазэ таталэ, ратэс хянэн секретарин да холитаян, и психоанализалэ. Пигай хян тули Венан психоаналитикойдэн себраха и эзини сигя эзмяйжидэн эдэспагинойдэнке. Водэл 1938 Австриян аншлюсан jӓльгхе, Фрэйдойдэн канз оли оттуд арестал аллэ, и Анна татанке пигай таци Венан кердхакс и тули элямаха Лондонха. Сурес Британияс хян яткуй тедойта психоанализад и шинготада ичезэ татан идеяд, эрилижешти лапсьайган психологиян сферас. Вл 1947 Анна Фрэйд пани Хемстэдан клиникан Лондонас алусэн, кудамб оли кайкиш сусембан лапсидэн психоаналитижне тервехтанд- и опендузкескусэн сэн айган. Вл 1952 хян авайжи Лондонас лапсидэн терапевткурсад и клиникан, кудамбад олиба эзмяйжен алускундан лапсидэн тервехтандан психоанализан методал тяхт. Jӓльгмяйжил элон возил тедомезь радой Елин университетас и яткуй шинготада ичезэ идеяд лапсидэн психологиян сферас. Анна коли Лондонас 1982 водэн редукун 9. пяйвял. Хян иче никонз эй олэнд мехел и хянэл эй олэнд ичезэ лапсид.
Тедонягендад
Edit
Линдэс ичезэ татан тедонягендойдэн jӓльгникан, Анна Фрэйд шинготи эзикят психоаналижид эльгендусид Миня:н полхе, и фактижешти пани удэн нэофрэйдистижен чурадусэн психологияс — эго-психологиян — алусэн. Хянэн тедолижекс пяэдэссатусэкс тобъималаз лугедас риститун кайчиёйдэн механизмойдэн теориян тедойдуст — механизмойдэн, кудамбидэн абул Миня лаптастаб Сэ:н валатойтуст. Мугадо Анна луяс эдэни агрэссиян опендусэс, но ӱксь-сэ кайкиш сурембан тондан психологияха оли лапсидэн психологиян (неце нянен эдэссатуз ом ӱхтхине Мелани Кляйнанке) и лапсидэн психоанализан сяданд. Хян тедойжи методад, кут рата лапсилэнке, сидя кескен Анна тедойжи удэс психоаналитижен теориян вяндсиядусид казватаиле и лапсиле хейдэн ичекескентехмижес абун тяхт. Лапсед олиба Анна Фрэйдан тедон да элон пямелентартусэн, эрашти хян эскай сануй: "Эн мелета, мише олэн хювян объектан биографиян тяхт. Нацейн, кайкед минун элод войд ӱмбрикиръютада ӱхтэл санундал — миня радойн лапсидэнке!". Элон лопус тедомезь, кудамб ё оли олну Авостузпрофессоран ӓидэн маильман кайкиш сурембиш университетойш, тартуй мелел тойжехе агъяха, ӱхтэнзойттуд лапсидэнке, — канзойкутз, хян радой сиш Елин университетас и пясти каксь тёд ӱхтмудэл коллегойдэнке (кацу "Валитуд тедотёд").
Валитуд тедотёд
Edit
Эзисанад психоанализалэ опендаидэн тяхт (Einführung in die Psychoanalyse für Pädagogen, 1926)
Эго и кайчендан механизмад (Das Ich und die Abwehrmechanismen, 1936)
Лапсидэн психоаналитине тервехтамине (The Psychoanalytic Treatment of Children, 1946)
Нормалине и патологине лапсьайгас: шинготесэн арвойнд. (Normality and Pathology in Childhood: Assessment of Development, 1965
Лапсен пямелентартусидэн тойжен полен тага (1973), ӱхтмудэл Дж. Гольштэйнанке и А. Солнитанке.
Лапсен пямелентартусидэy эдэс (1979), ӱхтмудэл Дж. Гольштэйнанке и А. Солнитанке.
Ad blocker interference detected!
Wikia is a free-to-use site that makes money from advertising. We have a modified experience for viewers using ad blockers

Wikia is not accessible if you've made further modifications. Remove the custom ad blocker rule(s) and the page will load as expected.